Queen Sofa Bed Sheets 50% cotton 200 thread count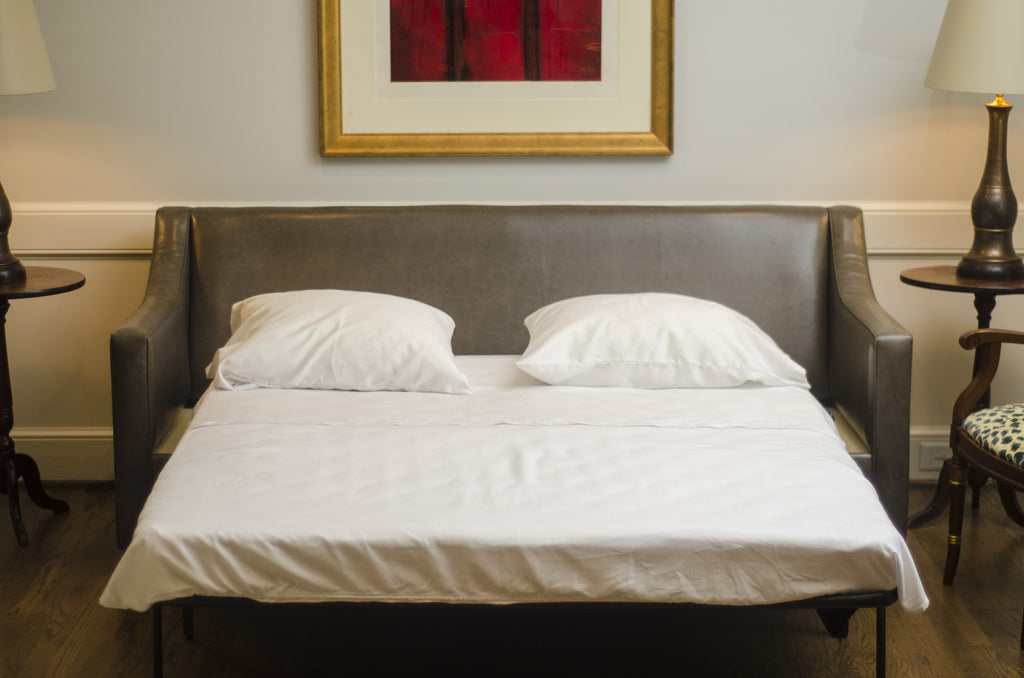 Having a sofa bed in your home can make it very convenient when you have guests over. However, making the bed can be not so convenient. If you do not have the right size sheets you can run into a bit of difficulty. At BedLinensEtc.com, we want to do everything that we can to get you the queen sofa bed sheets 200 thread count that you are looking for. We make these specialty sheets because a sofa mattress is entirely different than a regular mattress. You will find that the thickness is substantially less which will cause regular sheets to pucker and pull away from the mattress causing your guests to have an uncomfortable night's sleep.
With our queen sofa bed sheets 200 thread count measuring 60" by 74" which is 6" different than a normal queen size mattress, and being only six inches deep as compared to a queen size set being anywhere from 12" to 22" deep, you will find that the fit is perfect. Also, our sofa bed sheets are custom made which means that we can take the extra quality time to attach the fitted sheet to the top sheet so that when the bed is moved in and out of the sofa to sleep on for the night, you will not have to keep trying to find the top sheet that has slowly fallen into the crevice of the sofa.
When you order your queen sofa bed sheets 200 thread count, you will be able to choose from various colors and patterns to complement the bedding in your home as well as your sofa. Keep in mind, not only do we offer these sheets in the standard 200 thread count, fifty percent cotton and fifty percent polyester, we also have various other fabrics available. You can choose a queen sofa bed sheet in 100% cotton as well as flannel, bamboo and Egyptian cotton. It is important to provide your friends, family and loved ones with sheets that will allow them to rest easy while they are in your home.
Try us today and find out how our queen sofa bed sheets 200 thread count can not only make your sofa bed more comfortable for guests but also make your life easier with the wonderful design. No matter what type of bedding you are looking for, if you have any questions or concerns, please feel free to contact our specialists who are ready and waiting for your call today!
At Bed Linens Etc., we also carry Queen Sofa Bed Mattress Pads.
Features:
• Size - Queen Sofa Bed 60"x74"
• 200 thread count, 50% cotton 50% Polyester
• Made in the USA
• Set includes: 1 flat sheet and1 fitted sheet 
- Flat sheet available unattached, attached, or fitted at foot.
• 2 standard pillowcases