Cal King Flat Sheet 50% Cotton 200 Thread Count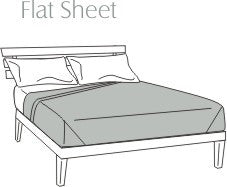 When you are making your bed, the dimensions of your mattress count. Although flat sheets may be a little more forgiving with sizing, fitted sheets need to work with the width, length, and depth of your mattress, or else they will bunch up beneath you and pull up from the corners in the middle of the night. Our California King fitted sheets are designed to accommodate the slightly narrower and longer make of this custom mattress. You will no longer have to fight with stretching improperly sized fitted sheets across your bed, as the 72" by 84" of fabric is sewn to fit your sleeper like a glove. These fitted flat sheets have a soft 50% cotton blend, that incorporates polyester into the weave for a virtually wrinkle free surface. The 200 thread count of the fabric also provides you with a light but durable sleeping surface that will not wear unevenly or end up with this spots. The smooth feel of the 50/50 cotton poly blend is slightly smooth against your skin, so you will be sure to have a restful night's sleep. Our California King fitted sheets can accommodate regular depth as well as higher mattresses, since the deep pockets are sized to fit 6" to 16".
We carry a complete line of Cal King Bedding and Cal King Mattress Pads.