Full Sofa Bed Sheets (54"x72") 100% Cotton 300 Thread Count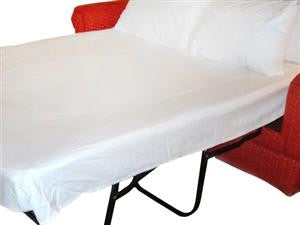 Full Sofa Bed Sheets
==================
At Bed Lines Etc., we carry 100% cotton, 300 thread count, in full sofa bed sheets. Your guest will love the feel of these sheets and they look great on your sofa bed. And since our sofa bed sheets are attached they will not fall off in the middle of the night. Our full sheet set includes a fitted sheet with attached flat sheet, and two standard pillowcases, and fits mattress up to 6". We also offer the option of having them unattached if you like. Our full sofa bed sheets fits mattress 54" x 72" Please make sure you measure your sofa bed mattress to assure the right size. If you have an odd size sofa bed mattress we can custom make you a set of sofa bed sheets for a perfect fit.

We also offer full sofa bed mattress pads for your sofa bed. Our sofa bed mattress pads are made especially for sofa beds and don't look like the cheap ones you see elsewhere.
Features:

- Size - Full
- 100% cotton
- 300 thread count
- Attached fitted and flat sheet.
- Available with flat sheet unattached, attached or or fitted at foot.
- 2 standard pillow cases
- Made in USA