King Sofa Bed Sheets (76"x80") 50% Cotton 200 Thread Count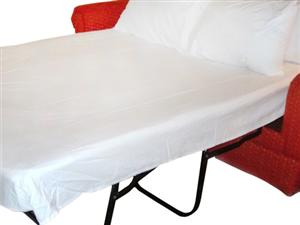 When you make up your guest bed ahead of time and stow it away in your sleeper sofa, you can be sure that your guest bed will be ready no matter who arrives unexpectedly. Sofa beds are versatile pieces of furniture to have when those last-minute guests arrive and bedroom space is running low. They are also functional if you live in a studio apartment, or other small living space and they are great options for teenagers who want the feel of their own place while still living at home.
Although practical, anyone who has ever owned a sleeper sofa knows how difficult it can be to find sheets that fit. If you try to use standard king sized fitted sheets you end up having to fold the extra corners underneath the thin sofa bed mattress. That may seem like a good idea, but the natural movements associated with sleeping can cause the sheets to shift and even come off completely. This can become a nightmare for the person trying to sleep. You need a sheet set that was designed to hug those thin corners of your sofa bed mattress, and Bed Linens Etc. has a wide selection to choose from. With a comfortable king sofa bed sheet set 200 thread count like ours, there's no reason not to take advantage of this handy piece of furniture.
Our king sofa bed sheet set 200 thread count is made in such a way that the flat sheet and bottom fitted sheet are sewn together, ensuring that once they are on the mattress they will not budge. Your guests never have to worry about the sheet slipping off and you never have to worry about wrinkling the sheets when you stow the bed away in your sofa. Our king sofa bed sheet set 200 thread count is the perfect combination of 50% cotton and 50% polyester, which is a blend that never needs ironing.
This practical set comes with two standard pillowcases and is available in color options that give you a better selection than most retail stores. If you are not sure that a king sofa bed sheet set 200 thread count will fit your sleeper sofa, keep in mind that king sofa bed mattresses are 76" X 80." We also have king sized sofa bed sheet sets available in 300 and 400 thread counts made of pure cotton and have a nice selection of mattress pads to make your sofa bed more comfortable than ever.
Features:
• Size – King Sofa Bed 76"x80"
• 200 thread count, 50% cotton 50% polyester
• Made in the USA
• Set includes: 1 flat sheet and1 fitted sheet
• 2 standard pillowcases
- Flat sheet available unattached, attached, or fitted at foot.