Split King Bed Skirt 50% Cotton 200 Thread Count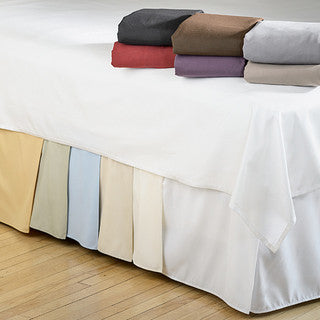 At Bed Linens Etc., our Split King bed skirt will complement your Split King bedding. Split King Bedkirts can be hard to find but not at Bed Linens Etc. The Split King bed skirt has split corners and a middle split at the foot of the bed.
Our 50% cotton 50% polyester blend Split King bed skirts in 200 thread count are made especially for Split King box springs, 2 - 39"x80", Our Split King bed skirts are available in different drops, 14", 16", 18", 21" and 24". To make sure you have the correct drop measure from the top of your box spring to the floor. If you need a different size drop we can custom make you a Split King bed skirt with any drop. Simply call or email us at sales@bedlinensetc.com.
We offer our Split King bed skirts in three different styles tailored, tailored with a side pleat, or ruffled, and a wide range of colors and thread counts.
Our Split King bedskirts / Split King dust ruffles are three sided; have split corners, a middle split at the foot, and a platform attached. It is made to go on top of your box spring, under the mattress.
Features:
• Size – Split King 78"x80"
• 50% cotton 50% polyester blend, 200 thread count
• Styles - Tailored, Tailored with a side pleat, or Ruffled
• Available in 14", 18", 21" and 24" drops - custom drops available.
• Split corners with a middle split at the foot of the bed
• Easy Care bed skirt, machine washable.
• Made in USA