Olympic Queen Sofa Bed Cotton Mattress Pads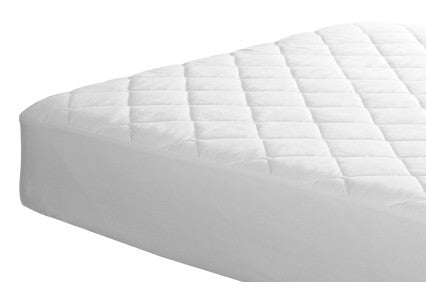 Olympic Queen Sofa Bed Mattress Pad – Give Your Sofa Bed Mattress the Royal Treatment

With so many advantages to owning a mattress pad it's hard to believe so many people go without them. If you already have a mattress pad on your bed, you probably haven't thought of getting one for your sofa bed, but why not? Sofa bed mattress pads offer the same level of comfort and protection as regular mattress pads, only you can have the peace of mind that your sofa bed mattress will stay protected and in good condition. Just because you only use your sofa bed for the occasional guest doesn't mean it shouldn't be protected.
A good quality cotton mattress pad will greatly increase the life of your sofa bed's mattress so you won't have to spend money on any unexpected expenses. That alone can save you hundreds of dollars, making the cost of a mattress pad well worth it. An Olympic queen sofa bed mattress pad will save your mattress from spills, fluids, and other accidents that may cause staining and end up voiding the mattress warranty. Before accidents happen, plan ahead of time and treat your sofa bed mattress to the comfort and security of a mattress pad.
Mattress pads are ideal solutions for people with allergies because you can wash the mattress pad regularly to cut down on pet dander and dust mites. This American-made Olympic queen sofa bed mattress pad is made of cotton, unlike competitor mattress pads that usually consist of plastic. Most major retail stores don't carry sofa bed mattress pads so don't waste time and gas driving around town. With Bed Linens Etc., you can shop in the convenience of your own home and order your mattress pad with a click of the mouse. This Olympic queen sofa bed mattress pad is machine washable and is designed to fit Olympic queen size sofa beds, which are much thinner than traditional mattresses.
If you are unsure what size your sofa bed is, an Olympic queen mattress measures 66" X 80." Measure your mattress carefully to be sure you are ordering the correct size. We also offer sleeper sofa mattress pads in twin, full, queen, queen XL, and king sizes. If you buy a mattress pad from most retail stores, you will get a product that was designed to fit mattresses anywhere from six to twenty-two inches thick. Sofa bed mattresses are only four to six inches thick, meaning that you need something that was specifically designed for them. Your Olympic queen sofa bed mattress pad will make your guest bed more comfortable than ever.